[FR] Mon très cher voisin du 2ème étage a une nouvelle petite copine. Je sais que c'en est une autre car elle gémit pas pareil que l'ancienne, elle a la voix plus grave et mes voisines du 3ème étage sont d'accord avec moi. Je suis très heureuse qu'ils aient une vie sexuelle épanouie, par contre, je préfèrerais ne pas en profiter. Cela va faire 15 jours qu'ils font des galipettes matin et soir. Quand je dis matien et soir, cela veut dire matin ET soir.

Par exemple, Lundi dernier, sa chère et tendre a tremblé de plaisir jusqu'à 1h00 du mat'. Et mes murs et le plancher des voisines aussi... Le mardi matin, j'ai pas beaucoup dormi car la personne qui vient faire le ménage à l'agence immobilière au rez-de-chaussée a trouvé intelligent de CLAQUER la porte du sas. Mon lit est cassé et l'onde de choc plutôt violente l'a fait tomber en miette, les côtés se sont écartés et mon sommier s'est bien entendu cassé la figure. Et moi aussi au passage. A 6h00 du mat'. Une heure plus tard, mes voisins remettent le couvert, youhou ! Je pars bosser à 8h00, ils s'envoient en l'air, je rentre le soir à 18h00, ils y sont encore, youhou ! J'ai une envie folle de mettre le panneau ci-dessous sur leur porte :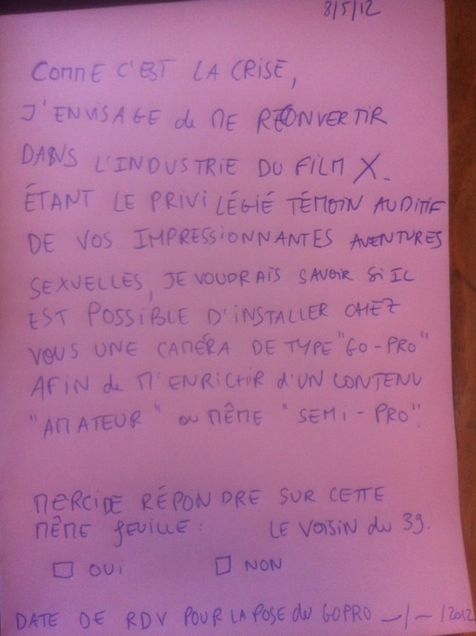 Source : http://next.liberation.fr/sexe/2012/05/23/chers-voisins-jouissez-moins-fort-s-il-vous-plait_820824


[ENG] Dear neighbours, please turn down the volume when you have sex!

My dear neighbour from the 2nd floor has got a new girlfriend. How do I know? She doesn't say the same things and doesn't moan the same way as the previous one and her voice is lower. The girls on the 3rd floor agree with me. I am very happy that they succesfully fulfill their sexual life, however, I'd rather not know about it. It's been 2 weeks that they have sex night and day. And when I say night and day, I mean night AND day.

For instance, last Monday, his girlfriend termbled in pleasure up to 1:00am. So did my walls and my 3rd floor neighbours' floor. That's not all. Beacause they were already having sex when I left the morning after at 8:00am! And when I came back from work at 6:00pm, guess what? They were having sex too!!!! I kind of feel on my nerves and exhausted and I have the urge to put a similar message as shown on the photo above on their door. Roughly, it says:

Considering the economic recession, I intend to switch to the adult movie industry. As I have the privilege to hear your impressive sexual adventures, I'd like to know whether you'd allow me to install in your apartment a video camera in order to record an "amateur" or even "semi-professional" content.
Source : http://next.liberation.fr/sexe/2012/05/23/chers-voisins-jouissez-moins-fort-s-il-vous-plait_820824